The Tour
On this page you can find the programme of the Prosperando Study Tour. The tour will take us to Rio de Janeiro, Foz do Iguaçu, Campinas and São Paulo respectively.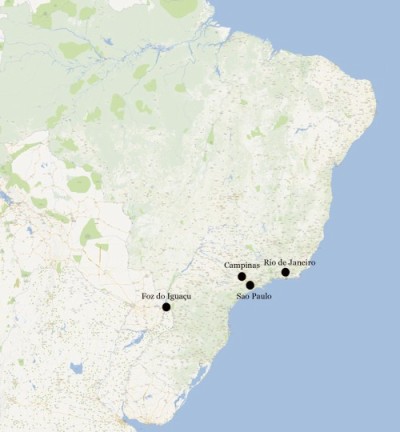 Tuesday July 15th, Departure from Eindhoven
In the early afternoon, we will depart from Eindhoven to Schiphol Airport by train. In the evening we will leave to Rio de Janeiro, where we will arrive in the very early morning of the 16th of July.


Wednesday July 16th, Arrival in Rio de Janeiro
The tour will start in Rio de Janeiro, a city of great importance and a vivid cultural metropolis. In Rio we will visit several wall known companies and research institutes. The city is also adjacent to beautiful nature as well
as the sea, it acquired a place on the UNESCO world heritage list in 2012 and is famous for its diverse architecture and astonishing nature.
On the first day of the journey, the participants will join a walk through some of the most impressive parts of Rio de Janeiro. We will visit the Saint Anthony Church, XV Square, Imperial Palace, Tiradentes Palace, Municipal Theater and Escadaria Selaron. The rest of the day will be free time for the participants to rest from the travelling.
Thursday July 17th, Excursion to VanderLande
In the morning, we will visit VanderLande. This company of Dutch origin specializes in automated material handling solutions and will certainly show some very innovative solutions in the field of automation. In the afternoon, we will join a tour over the famous Copacabana beach where we will probably end our day.
Friday July 18th, Excursion to Petrobras and CRESESB
Petrobras is one of the world's largest energy companies and its Research Center is the biggest in Latin America. Present in 25 countries and employing about 86.000 people, it holds a big share of the world's energy market. We hope to get a view on the current developments in the field of energy distribution as well as its view on the future of energy consumption and distribution. In the afternoon we have planned a visit to CRESESB. CRESESB is the Brazilian Reference Centre for Solar and Wind Energy. After a presentation about the development and implementation of renewable energy sources, we will discuss the policy an technical aspects of Brazil.
Saturday July 19th, Favelas Tour
This will be an impressive day, for we will get to experience the differences between rich and poor in Brazil. The IBISS foundation will show us one of the slums or 'favelas'. After a short presentation, we will be given a tour through the favela's on the back of a motorcycle. After lunch we will have a soccer match with some local kids and join them for a BBQ to conclude the day.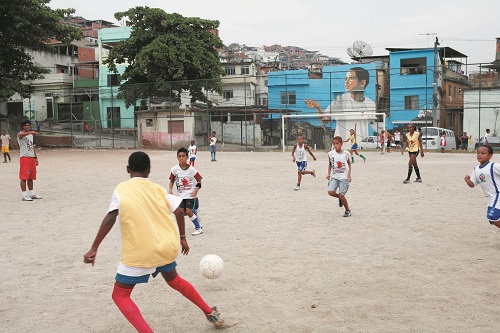 Sunday July 20th, Cultural Tour
On our first Sunday in Rio, everybody will get the opportunity to visit the Sugar Loaf Mountain, the statue of Christ the Redeemer, Botanical Garden, Tijuca National Park and Maracana Stadium during an extensive tour trough the city.
Monday July 21st, Excursion to UFRJ
After an introducing lecture about the university we will visit four laboratories: the Laboratory of Ocean Technology, Turbulence Mechanics, Superconductivity and Medium Voltage and Power Electronics. In the afternoon some Brazilian students will tell us something about studying in Brazil. The IEEE student branch and IEEE Young Professional Coordinator will be there as well to acquaint the students with information about the professional perspective of a future electrical or automotive engineer.
Tuesday July 22nd, Excursions to General Electronics and Chemtech
General Electronics is as broad oriented as its name suggests. It focusses on fields from electronics to chemistry, bio-sciences, computing, materials and imaging. Engineering and innovation are the key words for this company, which holds more than ten thousand patents, two Nobel prizes in chemistry and physics and an impressive list of inventions. We hope to hear more about the way this company combines high-tech research with industrial needs.
In the afternoon we will visit Chemtech. Chemtech develops engineering projects for major industrial ventures, in addition to offering high-end industrial IT solutions. With focus in offshore and underwater instrumentation and multi-disciplinary engineering, we expect Chemtech to be a fascinating company with an interesting view on the practical as well as the economical sides of engineering.
Wednesday July 23rd, Free Time
On our last day in Rio de Janeiro, the participants will have some free time to visit some cultural highlights of their choice... or a bar. We will fly to Foz do Iguaçu in the evening. This city has a population of 255.900 inhabitants and lies close to the borders of Paraguay and Argentina. It is a popular city because of its main attractions like Iguaçu Falls, the Itaipu Dam, the Omar Ibn Al-hattab mosque, the Bird Park (Parque das Aves), and the "Bosque Guaraní", the city's zoo.
Thursday July 24th, Eco Museum and Itaipu dam
In the Eco Museum we will see some historical objects, reconstruction of scenes and multimedia features which will give us a virtual tour through the history of the region. We will learn about the history of the construction of the Itaipu dam and the environmental activities Itaipu is engaged in until today. On the border between Paraguay and Brazil we will visit the Itaipu dam. This dam is the largest operating hydro-electric powerplant in terms of energy generation. With 20 generator units and 14.000 MW of installed capacity, it provides approximately 17% of Brazil's engergy and about 75% of Paraguay's energy.

Friday July 25th, Excursion to Eletrobras Furnas
Eletrobras Furnas is a mixed economy company that generates and transmits electricity. It runs a range of enterprises which generate 10% of Brazil's electricity. These enterprises include 16 hydroelectric power plants, 2 thermal power plants, approximately 23.000 km of transmission lines and 62 substations. 40% of all of the energy consumed in Brazil passes through the Eletrobras Furnas System.

Saturday July 26th, Parque das Aves & Iguaçu Falls
This day will be all about cultural excursions. First we will visit the Parque das Aves (the bird park) in Foz do Iguaçu. This park features a large collection of wild birds and is currently the largest bird park in Latin America. Later on we will head to the National park to visit the Iguaçu Falls. These are the waterfalls of the Iguaçu River on the border of Argentina and Brazil which have a flow capacity equal to three times that of Niagara Falls.
Sunday July 27th, Iguaçu Falls (Argentinian side)
Some people say that the Igauçu falls are even better and more beautiful at the Argentinian side. Therefore we will cross the border for one day to see it for ourselves. At the Argentinian side we will also have a better view of the Devils' Throat, where about half of the Iguazu river's flow falls down into a long narrow chasm.
Monday July 28th, Travel to Campinas
On the 28th of July we will be travelling to Campinas, which is the home of one of the most prestigious universities in Latin America: the University of Campinas (UNICAMP). UNICAMP has 37.000 students and is responsible for about 15% of all Brazilian research. Next to that, Campinas is home for many national and international high-tech companies and institutes, what makes it very interesting for us to visit.
Tuesday July 29th, Excursion to CNPEM
CNPEM is the National Centre of Research in Energy and Materials and has a good collaboration with the University of Campinas. We are invited to see how their large equipment, which contains lots of Electrical Engineering, assists them in their research. On top of that, we will be able to visit their particle accelerator.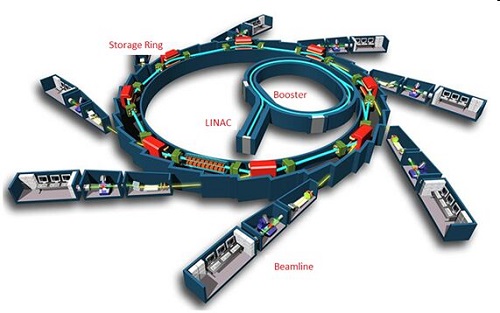 Wednesday July 30th, Excursion to CPqD
In September 2012, a delegation of CPqD visited Research Institute COBRA in Eindhoven, and since our professors were very impressed by the work of CPqD, we decided to see the innovations of CPqD in the telecommunication sector ourselves. At CPqD, we will get technical presentations about their R&D and we will get a guided tour through their lab facilities.
Thursday July 31st, Excursions to General Motors and Embraer
Thursday, we will go by bus to São Jose dos Campos to visit General Motors. GM is a large automotive company with locations all over the world. We will visit one of their facilities to get an impression of the competitive automotive market and car design.
Embraer is a Brazilian aircraft builder and is market leader in executive jets. Our visit gives a unique peek into the high-tech world of airplane design. A world where the standards of safety are very high and the competitiveness is killing. After our visit we will go back to Campinas by bus.
Friday August 1st, Excursions to UNICAMP and Eldorado
Since the TU/e has a collaboration with the University of Campinas (UNICAMP) we are more than welcome to visit their university. We will be welcomed at their department of Electrical and Computer Engineering and get a tour over their campus, to see differences and similarities with respect to our department and university.
Since it is part of the campus of UNICAMP, we will be visiting the Eldorado Institute during our tour. The Eldorado Institute is a non-profit research, development and innovation institution which contributes to the Information and Communication Technology in Brazil.
Saturday August 2nd, Holambra
Holambra is a colony which is founded by Dutch immigrants, and has, as the name already says, strong influences of the culture of Holland, America and Brazil. Holambra is famous for its production of flowers and plants, and organizes the yearly Expoflora, which is the biggest flower event of Latin-America. In Holambra we will also visit a little cachaca distillery and a beer brewery.
Sunday August 3rd, Free Time
The participants can choose whatever they want to do during this day. The committee will provide options for sightseeing and cultural visits.
Monday August 4th, Excursions to OMRON and Eaton
On the Monday, August 4th, we will be travelling from Campinas to São Paulo by bus. Since there are many interesting companies on the way, we will be visiting OMRON in the morning. In Vinhedo, OMRON has a facility which designs and manufactures electronic components for the automotive industry.
In the afternoon, we will be visiting Eaton Electrical in Jundiaí. Eaton Electrical tests and manufactures Medium Voltage and Low Voltage Switchgear and is very glad to receive us and show their facilities.
Tuesday August 5th, Cultural Sightseeing
We will visit Ibirapuera park and do some sightseeing at the Museu afro Brasil, which can be considered a celebration of the art and accomplishments of the Africans and Afro-Brazilians. In the afternoon we will see the Italian building for a view over the enormous city of São Paulo. Due to an exception in building regulations, this is the highest building in the neighbourhood and offers a full 360 view of the city.
Wednesday August 6th, Excursion to IBM
Our second day in São Paulo, we will visit a high-tech research and development facility of IBM. Employees of IBM Research Brazil research natural resource discovery, smarter cities and human systems, smarter devices and service systems.
Thursday August 7th, Excursions to Continental and TE Connectivity
Continental is one of the largest automotive-parts suppliers in the world. Continental develops and produces safety systems, brake systems and chassis for passenger cars. They also develop advanced automotive solutions, such as fully automated driving and electric and hybrid cars. The company is divided into divisions such as chassis & safety, powertrain and interior. We will visit one of the facilities of Continental near São Paulo and look at the high-tech systems that are developed there.
TE Connectivity designs and manufactures components and products for a variety of industries including automotive, data communication systems, consumer electronics, telecommunications, aerospace, defence and marine, medical, energy and lighting. We will visit a facility of TE Connectivity that focuses on automotive.
Friday August 8th, Excursions to the Consulate General of the Netherlands and USP
At the Consulate General of the Netherlands in São Paulo we will get a presentation about what the Netherlands does for fellow nationals in foreign countries. Undoubtedly some of our participants will work abroad in the future.
The University of São Paulo is the largest university of Brazil and is a partner of Eindhoven University of Technology. There we will be guided around campus and several electrotechnical research projects to get a good impression of the university. Afterwards we will meet with CEE, the study association for electrical engineering at USP. They will tell us all about their association and the student life in Brazil. We will end the day with a barbecue dinner together with members of CEE.
Saturday August 9th, Sniffing culture
The very last day in Brazil will be spent partly with CEE who will take us on a cultural trip. The other part of the day will consist of free time to get a final view upon the astonishing country of Brazil.
Sunday August 10th, The trip back
After a three and a half week stay in Brazil, we will go back to the Netherlands. After packing our bags in the morning and spending some spare time in São Paulo, we will fly back home.