Welcome!
On this website, you will be able to find information about the Prosperando study tour and its organizing committee.
Home Again!
After an intensive quest of four weeks, our journey to Brazil is over. The committee would like to thank everybody that contributed to the trip and to make it a success.
Furthermore, the memories of this precious trip will not be lost for a digital copy of the final report will be posted on this website when it is ready. We expect the editing to be finished by about halfway October.
For any other questions, comments or severely bad jokes, please contact the committee.
written on: 15-08-2014
Recap São Paulo
With its forty million inhabitants, 180 km of traffic jam on average evenings and 77 shopping malls, São Paulo is not exactly a quiet place to live. However, the inhabitants or 'Paulistanos' seem to be used to the liveliness of their environment. For us, a group of travelers mostly from the tranquil Brabant and Limburg, this seemed unthinkable. Next to the everlasting and omnipresent noise, we had trouble to adapt to the even more abundant smog. What a difference to the silent Eindhoven, which nearer to a big village than a city!
However, the crowdedness of São Paulo is a charm as well as a curse; it houses some of the most promising high-tech companies of Latin America. I can understand how the place attracts people for the limitless possibilities when one needs a job. At IBM, some interesting research in the fields of automated data classification and security was shown and at the University of São Paulo we met sensor design and machine development. Next to that, TE Connectivity and Continental presented their impressive plants in the vicinity of the largest city of America. After these tours, I can say that they have the full right to be proud of their sites!
Furthermore, despite that we were convinced that Thor is an unique association, we found our twin brother in USP's CEE. Within seconds we mixed with these friendly students and joined them in foosball, gaming, dancing and Flipcup. This promises to be the start of a great friendship between the associations.
So all in all, São Paulo is definitely worth a visit. It will amaze you for its differences in atmosphere, but similarity in the people (or at least the engineers) one can find there.
Written by Elles Raaijmakers
written on: 15-08-2014
Day 28 : Home Again
At 11:30 h, our plane from São Paulo landed at Frankfurt airport. The turbulence in the middle of the night and the 5 hours of time difference caused many tired faces. The departure from Frankfurt was rescheduled and took place about three and a half hours earlier than planned. Luckily, we hadn't had to wait another five hours before the plane to Schiphol departed , but more importantly: we could be at the Walhalla at 17:00.
After passing all security checks at Frankfurt, we could almost immediately board the plane.
The security check was much stricter than checks we had before. Some hand luggage had to be opened, some people had to take of their shoes for an extra test and the manly parts of Rob Sanders attracted the attention of the security personal and required extra investigation. Lars was taken to a separate room were his digital Yahtzee game was tested for explosive materials. Of course nothing was found. Manon, however, was not that lucky. Her tax-free purchases from the São Paulo airport, which were in a special sealing bag, were strangely not accepted since the purchase receipt was not in the sealed bag but separate.
The flight to Amsterdam only took one hour and at 14:00 we arrived at Schiphol and we were back in Holland. Some luggage had to be opened by the customs for a routine check, but nothing was confiscated. All the cigarettes, liquor and the other purchases made it successfully to the Netherlands.
After an hour and a half in the train we arrived back in Eindhoven. Some of the group members were picked up or travelled immediately to their family. The others went to the Walhalla to conclude the trip as tradition and share the experiences with other people of Thor. It was very nice and more and more people left to their family or were picked up. The really die hards even went to Café Santé afterwards and did the drinking game 'Flipcup', that they learned in São Paulo from the students of CEE to make a nice end to the successful study trip to Brazil with each other.
Written by Lars van Meurs & Erwin
written on: 15-08-2014
Day 27: Tchau Paulo
On Sunday the 10th of august it was finally time. This was the day we would leave the beautiful, sun filled, both busy and relaxing country of Brazil. We have been there for 27 days, seen 5 different cities, walked 8 km of beaches (not to be misunderstood with bitches as the accent of the Brazil people would have you believe), seen the biggest waterfalls in the world and met a lot of wonderful people from all over the world.
This morning, almost everyone spent their time packing their luggage. The boys had a relaxing morning while most of the girls varied from lying, sitting and standing on their suitcases in an attempt to get them closed with the new purchases they made throughout Brazil. Checkout was at noon which everybody made almost in time. After this, we were free to spend our last 2 hours in Brazil any way we wanted. With a small group we decided to walk downhill in search of a place to have lunch. During this walk we encountered a market set up in the middle of the street blocking four streets in total. Here they sold lots of fruits, vegetables, meat, fish and clothes. It was here that some of the people decided to have their last lunch. We ventured on to find a restaurant where you pay a price for the weight of the food you eat. It seemed like a nice place to have our last meal, since these restaurants were ever so present throughout our entire trip of Brazil.
Our little trip, however, seemed quite dull in comparison of what some other people decided to do. A group of people had some of their cachaça left and, since they couldn't take it with them in the plane, they thought of a way (their own peculiar way) to share the joy and hand it out for free to the local hobo's . Whether this was a smart idea I won't say, but fact is that they had fun. Someone else from the group had developed quite a romance with a local Brazilian drink called Guarana. The thought of leaving the drink proved to be too painful and therefore he bought a second suitcase and bought no less than 16,5 Liters of Guarana to take home with him to the Netherlands.
Everybody was back on time at the hostel and, after saying goodbye to both our supervisors, we went on the bus. Both of our supervisors from the University decided to stay in Brazil for a little longer and, really, who could blame them?
We all arrived at the airport where things took one last unexpected turn. Due to an error on the website, the overall thought was we could bring one or possibly two suitcases of 32 kilograms. It turned out, however, that we could only bring one suitcase with a maximum weight of 23 kilograms, quite different indeed. Everything over this weight would amount to a fine of 20 euros per kilogram. After a talk with one of the check in personnel, they agreed to let us take suitcases up until 25 kilograms per person. Everybody left the line, weighed their suitcases and got divided on overweight, on weight or underweight with no room left and underweight with room left. After this, the suitcases were opened and chaos ensued. After dividing coats, mugs, laundry, Guarana and shoes all the suitcases were accepted and we were ready to go.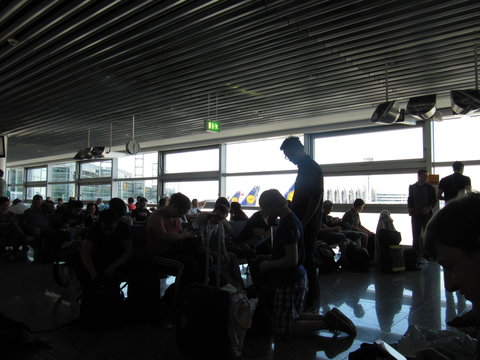 In the airplane we all settled down in our little Thor corner and busied ourselves with watching movies, reading books, doing some administration or just generally doing nothing. As for myself, I watched amongst others the movie Rio 2, and saw there once more all the lovely things we also discovered in Brazil. Finally I say in my best Portuguese: tchau, mas não adeus.
Written by Linda Janssen & Pasquale van Heumen
written on: 15-08-2014
Day 26:CEE Ya, São Paulo!
Around 9 o'clock the alarm rang for the last full day in São Paulo. Nice stories from the evening before were shared at breakfast, while some participants challenged the breakfast deadline of 9:30. Around 10:45 Woody and Mowgli, two students of CEE, showed up at our hostel to drop off the association gadgets of CEE that some people ordered and to take us for the activity of today: a tour through São Paulo to show us some highlights of the city.
We took the 'metrô' to Saint Paul's Cathedral, the first hotspot of the day. This cathedral, made of about 800 tons of marble, is the biggest of the state São Paulo. Building it started in 1913 and finishing it took about 4 decades. We had a quick walk through the cathedral, as the mass was about to start, and headed towards the square in front of the cathedral, where the 0-point of the city is located. This is marked by a stone, displaying all the neighboring states.
Next was the city market. On our way to the market, we passed the incredibly busy 'March 25th' street. This street full of small shops is known for its cheap products. Having finally reached this huge mass of people, we arrived at the city market. The market had many stands with mostly organic goods. It also had many places to eat. Woody and Mowgli told us to certainly try the baloney sandwich, which has about a one and a half centimeters thick layer of ham. However, most restaurants were very crowded. Once we found one with a small line, we got ourselves some food. Then a waiter came to us to tell that this wasn't the line. He guided us to the end of a 45 meter line. We did not think it was worth it to wait that long, so we got a sandwich somewhere else and ate it outside.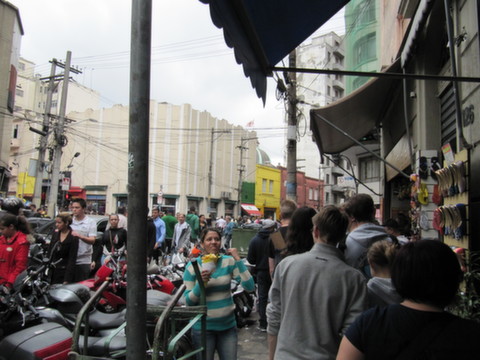 When everyone finally got outside, we took the subway again and went to a place best described as Japanese Chinatown. Already at the subway station, we noticed the substantially higher amount of Japanese people and outside there were buildings and street lanterns in Japanese style. We went into an Asian mall with lots of Pokémon, Manga and of course nunchucks and katanas. After 15 minutes we had to go back to the hostel, unfortunately.
Sometime later, we headed to a churrascaria for concluding dinner, together with Woody, Mowgli and some other people of CEE we met last night. For the last time we enjoyed the churrascaria principle of a very good buffet and the meat that keeps on coming and coming. By the time we were satisfied Teun held a speech, as this was the last evening, touching upon some of the highlights of the study tour and thanking everyone. The participants also held speeches to thank the committee and presented their sometimes - let's say - original presents.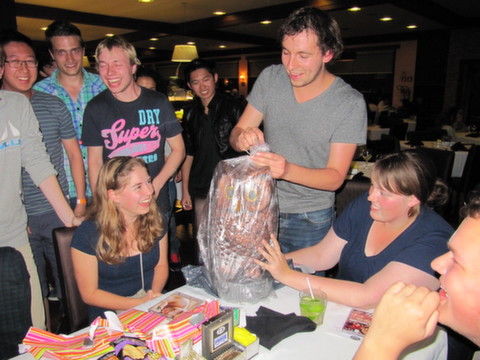 While some of us went back to the hostel, others thought they could end this trip best by going out one last time. As Electrical Engineering students, we could of course not leave São Paulo without having visited bar Volt tasting their 'Tesla' cocktail. After some drinks and some peculiar events, asking around, we came to the conclusion that Saturday night is gay night in São Paulo.
Written by Mark Legters & Jelmer de Haan
written on: 12-08-2014